Blanca Rodriguez-Evangelista is a former member of House Abundance who, after being diagnosed with HIV, decides to take fate into her own hands and form House Evangelista; taking in Damon Richards, Angel, and the new face Lil Papi, she strived to be a known house among others in the ballroom, while providing care and nourishment that lacked in their previous homes.
Watching as aspects of ballroom seem to become mainstream, Blanca pushed her children to seek new opportunities, helping only daughter Angel seek modeling to escape the dangers of sex work. She also sought a new opportunity of her own, having been fired from her old manicurist job. Though building up with Vogue Nails, she repeatedly encountered many legal battles with the landlord Frederica Norman.
Left with an empty nest at home, Blanca sets her sights to providing help as a Nursing Aid at Roosevelt Hospital, forming a passionate relationship with a doctor on the AIDS ward. She seeks a pursuit to become an official nurse for her patients, while continuing to support her friend's battles to keep living.
Biography
This article or section should be expanded.
Early Life
Designated a male at birth, Blanca, born Mateo, lived with her family. Often, while her parents slept, she dressed traditionally feminine and attended the Balls, returning home before they awakened. During one Thanksgiving, however, her mother presented with a smirk, ultimately confessing that she had witnessed a girl sneaking in and out of the bedroom every so often. Blanca confessed to her that the girl was her, coming out as transgender. Her mother disapproved, forcing Blanca from the house during her late teens.[1]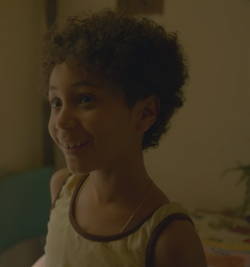 Eventually, she attended a Ball, working up the courage to attempt a walk on her own. Despite negative criticisms towards her, she pressed against the emcee. Afterwards, Blanca had a smoke, where a group of women insulted her appearance. Though she tried to push them down, she soon threatened to fight, prompting Elektra Abundance to step in and defend her.
The two women dine in a 24-hour dinner, Blanca treated to pancakes after starving. She converses with Elektra about her dreams and aspirations before being adopted by the ballroom queen, her having proclaimed herself to be her Mother.[2]
Early House Abundance
Sharing a small housing unit with two other women, Candy and Lulu, they repeatedly struggle on methods of bringing income to pay the bills, Blanca even suggesting that she enter sex work to supply money, though Elektra rejects the notion and goes instead. Upon her return, she greets the three new members to the House, Angel, Lemar, and Cubby.[3]
Royal House Ball
In preparation for an upcoming ball, Blanca brings forth the idea of having the House walk royalty, though Elektra and the children insult her before it is revised as the "Royal House." She joins them to a visit at the Museum of Fashion and Design, checking the exhibits for inspiration, seeking one exhibit with old royal clothings on display. Blanca follows Elektra's order for everyone to hide upon the Museum's closure; minutes out lockdown, she collects the clothes and jewelry, storming to the front doors. Using a nearby bench, she smashes a window and run to the ballroom hall in an effort to avoid the police behind them.
Blanca dresses in the royal cloth before entering the hall, walking as the House of Evangelista. She is arrested alongside her House siblings for the theft but is released the following day.[1]
Defection from House Abundance
Despite Elektra Abundance having taken her in and apparently raised her, Blanca was the constant receiver of her mocking and ridicule, especially on her supposed inability to pass or lead. After learning of her being HIV positive, Blanca found an apartment out of which she could run her own house in the hopes of leaving a legacy after her death. Elektra found out and confronted her, saying she would never give her blessing and effectively banishing her from House Abundance.[1]
Funeral and After Gatherings
As she cleaned different parts of the apartment, Blanca scolds Damon for a prior incomplete chore. When she checks on Angel's cleaning, skeptical of her hasty tidiness, Blanca discovers that her House daughter had shoveled the mess into the closet. She soon answered a ringing phone, breaking down in a loud outburst and sobbing upon being informed her biological mother has passed away.
Blanca seeks her sister's house, being greeted to a young girl before her mother called her away from the door. Through an unpleasant conversation, she learned that the family believed her to be dead and blames Blanca for their mother's death; she is also pushed to not attend the funeral.[2]
In Her Memory
to be added[2]
Papi
Pager
Blanca gives her farewells to her children Damon Evangelista and Lil Papi. With the house empty, she hears a pager ring in the living space. In her concern, she soon interviewed each of the children as they returned, starting with Angel and Damon. Upon Ricky's arrival, Blanca questioned him about the pager as well, initially receiving another lack of knowledge of the owner before being persuaded to tell the truth. She hears the confession that it belonged to Papi whom was selling drugs outside the house by the Piers.
Enraged, she stormed the house to find Papi at the Piers.[4]
Child of Ferocity
to be added[4]
New Job
Blanca met with the realtor Frederica Norman for an old building at an intersection.[5]
Beach Trip
Trapped in the New York summer heat of House Evangelista, Blanca complained of the sweating with her former Abundance family before Mother Elektra suggested that the women take a vacation to a beach house outside the city.[6]
Declining Health Scare
Reunion with Pray Tell
May 1991; with the house empty, Blanca settled her nail business in her home, servicing a cilent's nails. She received an unexpected visit from Pray Tell, where the two embraced tearfully and amend their severed bond from a year prior.[7]
Hospitalized and Visited
to be added[7]
Ballroom Performance
to be added[7]
New Life Goals
Taking under her wings the young children Quincy and Chilly, Blanca provided a shelter and assistance to their lives while in New York City. She soon grew to join her efforts at Roosevelt Hospital alongside Judy Kubrak as a nurse's aid, learning that a former member of Abundance and Evangelista and House sibling Cubby was bedridden and slowly dying.
Working on the HIV ward, she meets Christopher, a doctor also employed at the hospital working with patients on the wing. The two quickly developed a passionate relationship, regularly arranging encounters at his home and going on dates. Blanca eventually juggles the return of her first House child Damon Evangelista with his return from a finished tour and battling his alcohol addiction. Through time, she loses Quincy in the house, he moving around other houses with the community; she loses Chilly as well, she deciding to return with her birth family.[8]
Another Intervention
to be added[9]
The Trunk
Blanca received a call from the local jail, speaking with Elektra who had been arrested for a possible connection with the mob. Though she was pleaded into its removal, Blanca reluctantly accepted to help dispose of the trunk in Elektra's closet. Rushing to Wintour Residence, Blanca and Lil Papi were greeted to an anxious Ricky buzzing them inside.[3]
The Wedding
to be added[10]
New House Evangelista
to be added[11]
Personality
This article or section should be expanded.

Blanca grew into a bright and optimistic individual, who sets high hopes and great aspiration for her friends and family.
Relationships
Family
Romances
Friends
Enemies
Gallery
Quotes
"Do you know what the greatest pain a person can feel is? The greatest tragedy a life can experience? It is having a truth inside of you, and you not being able to share it. It is having a great beauty, and no one there to see it. This young boy has been discarded, and he is so young, he believes that it has something to do with who he is. It's like cancer. It is going to eat at him from the inside until he starts to resent even the best parts of himself."
—Blanca Evangelista to Helena St. Rogers
"Who ever got anywhere by knowing their place? A man who knows his place might as well be a dead man."
—Blanca Evangelista to Pray Tell
"Don't you dare treat me as delicate."
—Blanca Evangelista to Pray Tell
"I want you all to see what this disease looks like. It looks like me and it looks like you. The first letter in HIV stands for human and I want you all to never forget that."
—Blanca Evangelista
Trivia
Behind the Scenes
Appearances
References