Love Is the Message is the sixth episode of Season One and the sixth overall episode of the series Pose. It premiered on July 8, 2018, on FX.
Synopsis
Pray Tell organizes a cabaret for the AIDS ward at a local hospital.
Plot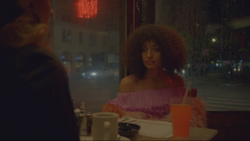 In a night dinner, Patty Bowes speaks with Angel Evangelista about her relationship with her husband Stan. She questions Angel about the two's sexual encounters, in disbelief that he would engage with someone like her; she also questions Angel's participation with ballroom with gay men and drag queens, to which Patty demands that Angel proves her womanhood. Angel explains that she is not ashamed of her personhood other than her genitalia preventing her to move forward in life. Leaving money on the table, Angel leaves the dinner.
A following night, having visited his lover Costas Perez at Roosevelt Hospital, Pray Tell emcees the next ball, drinking heavily and repeating that the DJ plays Love is the Message. He and the judges preside over the butch queen category, where Ricky Evangelista wins grand prize for his performance. Grabbing his trophy, Ricky notes his family's faces of annoyance, but is informed that they are tired of hearing the same song for the past week of balls from Pray Tell, prompting Lil Papi to ask Mother Blanca to bring their friend aside.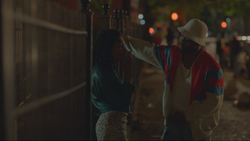 With the ball concluded, Blanca waits outside for her children, being greeted by Elektra Abundance, with Cubby and Lemar carting her grand prize trophy for femme queen body. The two women exchange words over Elektra's victory in the category, though her mother snides that she would only face against her daughter in a face category before walking home. She is, then, approached by a handsome gentleman who speaks poetic, romantic lines to Blanca in an effort to gain her affection. Initially, she attempts to shoo him away, citing that he may prefer "real women," but he rebuffs that she was the kind of woman that he desired. As he asks her for a date that night, her children leave the building behind her, Blanca excusing that she cannot, for she needed to go home with her children. Papi remarks that the man was corny.
The next day, Patty visits her family doctor on the claim that she has been feeling unwell. After examining her and informing her that she was healthy, she advances that she be tested for HIV, which he tries to shy away from performing and asks whether she or her husband had an affair. Disclosing that it was Stan, the doctor complies with doing the test, commenting that the insurance company will make a note of it.
Blanca gathers everyone at the apartment to have a family dinner with cooked food, including Pray Tell in their gathering to eat. When Ricky comments on Pray's obsessive drinking at the table, Pray begins to verbally assault everyone at the table: Ricky for his sexual history, Angel for her former occupation as an escort, and Papi for not completing his education. He, after Blanca shut down the reading, asks why he was included to the dinner table; Blanca and the family replied that they wish to know of his condition, noting that he has been off during his emceeing at the balls as of late. Visibly upset, he confesses to the children that he has learned that Costas is dying from the virus and is unable to process his entire life of pain and struggle with his friends and lover dying from the epidemic. As he walks out of the room, he chastises them for their intervention, demanding they mind their business.
Cast
Main Cast
Guest Cast
Videos
References
External Links