Mother's Day is the fifth episode of Season One and the fifth overall episode of the series Pose. It will premiere on July 1, 2018, on FX.
Synopsis
Blanca is forced to reconnect with her estranged siblings after the death of her mother.
Plot
This article or section should be expanded.

May 9, 1982, Jack Mizrahi emcees for the Mother's Day Ball, he and the judges critiquing the various women that walked the femme queen category. Newcomer Blanca Rodriguez enters the room, amazed by the festivities. Shy but optimistic, she attempts a walk. The ball set to a pause, she was asked to introduce herself to Jack while he and the audience passed their judgment. Lost in the sea of chatter, Blanca looks to the balcony, finding her idol Elektra Abundance fanning herself as she looked onward over the young woman. Eager to impress, she continued her walk and demands her scores. The scores came as a collective six.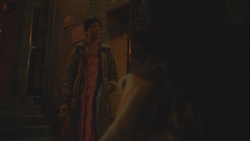 After the ball has concluded, Blanca walks outside into the sidewalk, overhearing as a gathering of women chuckled over her performance and her appearance. She attempts to defend herself from the attacks and insults, unaware of Elektra's presence behind her. When she threatens to become physical, she is moved aside by Elektra, who quickly intimidates the three women for their appearances and occupation.
Cast
Main Cast
Guest Cast
Videos
Trivia
Blanca has two older blood siblings.
References
External Links